Seven moons
Afflicted with both myopia and astigmatism, Kohei Sugiura is acutely aware of the act of "seeing." For example, due to his myopia he often sees three or four moons, or even seven moons on top of each other, he says. In other words, we don't all see the same world. There is a deviation between supposedly universal phenomena and everybody's personal experience of them. Rather than compensating for this deviation, Sugiura decided to accept it as it was and turned it into the point of departure for his designs.
Fluttering eyeballs
When people reproduce a visual signal by hand, they usually draw an outline. They make some kind of contour detection. But in the myopic eye, there is no sharp image drawn on the retina in the first place, so simple line processing won't work. Even if you don't have myopia or astigmatism, when you fixate an object, your eyes actually keep making quick movements. Experiments have shown that if those movements are stopped, the image vanishes from the retina. Contours, or the supposed shapes of objects, seem to be intimately connected to factors like fluctuation and deviations. "Never draw contours too facilely" and "Contours always fluctuate" are two premises of Sugiura's designs.
Thing that fall between the cracks
Not drawing contours too facilely is an important theme not just in design but in analysis and verbal expression as well. When you express a form by drawing a straight line from A to B, that is because A and B are all you know; your measuring instrument didn't pick up anything in between. Probably the same happens in analysis. Perhaps an awareness of things and events that fall aside from the line between A and B will be necessary to proceed to the next step in both verbal expression and analysis, as well as in design.
Signs of shapes
Another fundamental aspect of Sugiura's designs is "discovering shapes for things that have no form." However, finding "signs of forms" among formless things is not an easy task. It requires both long experience and a profound intuition. Phenomena such as economic fluctuations that are easily converted to numerical values can be expressed on a simple coordinate axis. But hyperspatial phenomena like the transience of time and sensations cannot be dealt with quite that straightforwardly. First you have to find an axis among those hyperspatial phenomena in order to make invisible forms visible.
Taste maps
Dog maps
Time hierarchies
Soft maps
Maps are born out of a desire to see and know the appearance of the world around us. General maps aim to be objective and universal, and the relationship between a map and local details is like that between a dictionary and words: the clearer it is, the more accurate it is. Maps can also show things invisible to the naked eye, such as geological strata. By drilling according to a geological map, you can confirm the locations of hot springs and coal layers. They are part of the "hard world" that no-one doubts.
Introducing a new axis is a method of capturing that undoubted hardness in a soft way, an expression of critical awareness. Drawing a map around an axis of sensations or time, for example, makes the supposedly "hard" and "universal" world look like something else altogether.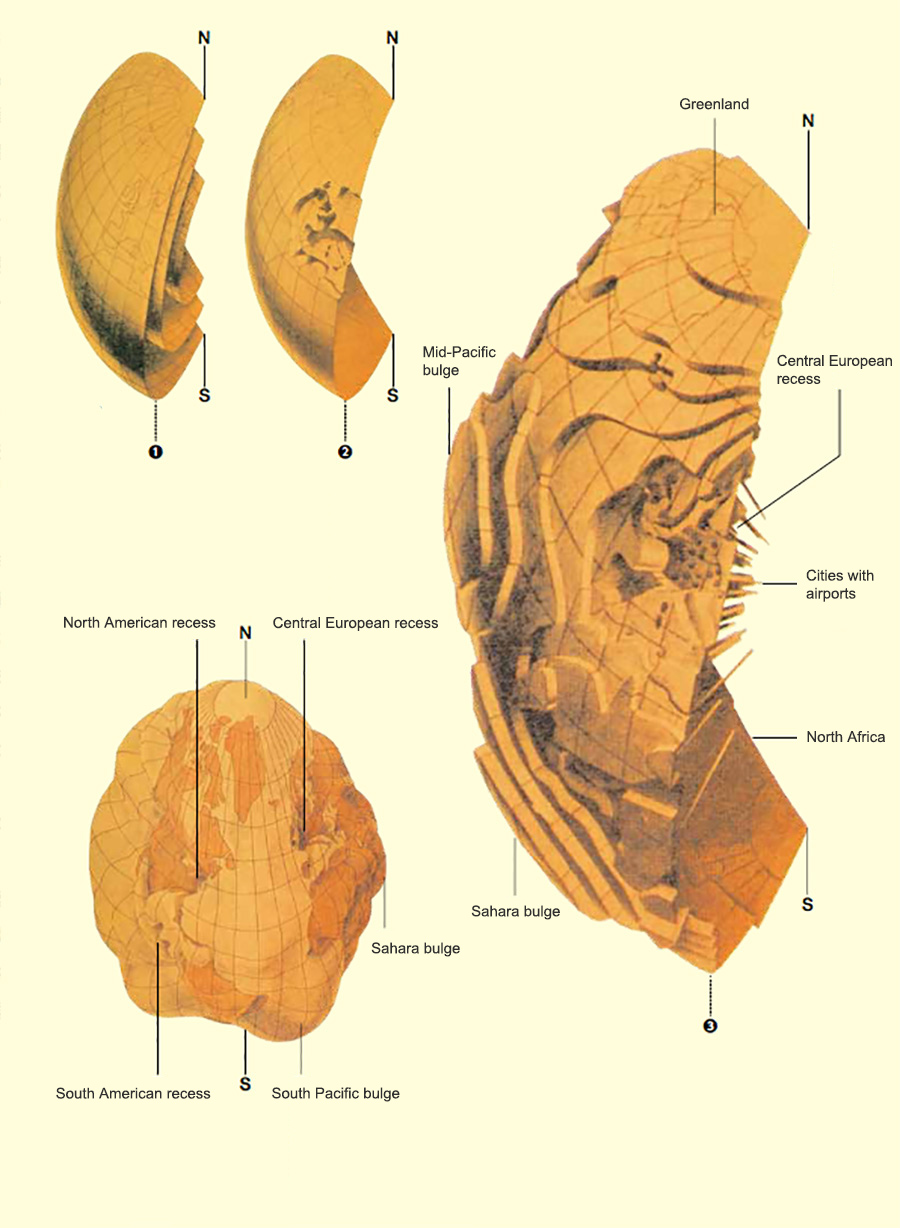 Hands and intuition
Sugiura's most important tools are his hands. Infographics are built on data: data that are strictly digital, numerical values from which human emotions and similar excess baggage have been scraped off. That is precisely why you can make objective and cool-headed images of the data, but in the end those images could also be created by a computer. When you work by hand, you have to proceed slowly and confirm the details at every step. It is in those gaps you might discover new, previously unknown themes hidden away inside the subject matter, things that slip through the cracks during computer processing. A flash of inspiration, and after some verification and a leap of imagination, an "intuition" is born. The work may sometimes seem slow and frustrating, but thanks to that fingertip touch, "astigmatic" images reveal themselves.
Globe transformed on a temporal axis
and the corresponding stereoscopic image
Moving weather charts
[Reference literature]………  A large collection of Kohei Sugiura's diagrams can be found in the book Jikan no hida, kuukan no shiwa… (Kashima Publishing, 2014; text in Japanese only). For more information in English about the diagrams described in this article, see Kohei Sugiura: Forms Come Alive (Chinese University Press, Hong Kong, 2016).
This article was prepared by the "abiroh" Editorial Department based on an interview with Kohei Sugiura. Copyrights for illustrations and descriptions belong to Kohei Sugiura.